Scheme to redevelop the Whitgift shopping centre was orginally given outline planning approval in 2014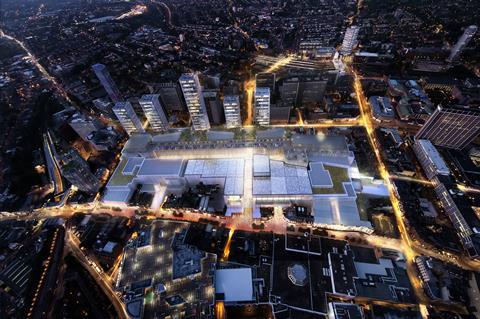 Croydon council has approved Hammerson and Westfield's revised £1.4bn proposals for the redevelopment of the town's Whitgift shopping centre.
Hammerson and Westfield said following planning consent, a construction start date in 2019 was being targeted.
Planning for the scheme was originally approved in 2014, but was revised to increase the size of the site to be redeveloped after the acquisition of the office building Green Park House, which was acquired last year, and the demolition of the car park on Wellesley Road and Marks and Spencer store.
The new scheme plans to deliver over 1.5m ft2 of retail and leisure space and between 626 and 967 new build to rent homes, of which at least a fifth will be affordable. The new homes will be spread across between four or five buildings overlooking Wellesley Road.
It is expected that the first residential buildings will be developed with the retail part of the project with the remainder delivered in later phases.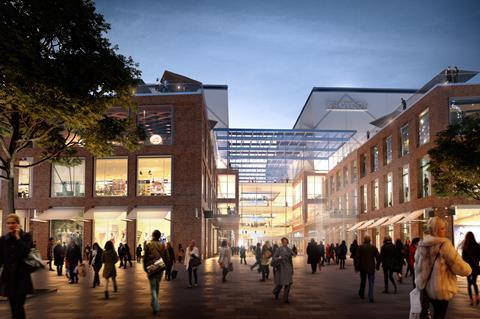 The scheme has been masterplanned by Allies and Morrison with Leonard Design Architects also working on the design and Hawkins Brown drafted in to work on the residential element, while Spacehub are doing the landscaping.
Croydon will join Stratford and Shepherd's Bush as London's third Westfield shopping centre and one of the company's 17 flagship centres across the world, from China to the USA.
John Burton, head of development at Westfield UK/Europe, said the approval of the plans represents a "significant milestone for the project and for Croydon".
Hammerson's chief investment officer Peter Cole, added: "We are pleased with the level of retail demand which has driven the evolution of the design and layout of the new scheme, and we look forward to progressing our plans and transforming Croydon into one of the UK's top 10 retail and leisure destinations."
The redevelopment follows a record year for overseas-backed projects in the UK and London, with 891 projects in London made possible through foreign direct investment over the past 12 months.