Revamp of Worcester's Cathedral Plaza centre will begin early next year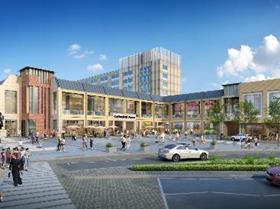 Plans to build a 220,000 sq ft shopping centre development in Worcester town centre have been approved by the city council.
The scheme will revamp Worcester's existing Cathedral Plaza shopping centre near the town's cathedral and will create a new public square, as well as space for several large retailers, seven restaraunts and an underground gym.
Developer Salmon Harvester is behind the scheme.
Nick Webb from the Salmon Harvester Opportunity Fund said: "We have been working in partnership with both city and county councils and have been very pleased with the positive approach both have taken to the project as this is exactly the type of investment the city centre needs."
The project is expected to start early next year with the new restaurants and shops open for spring 2016.