Wandsworth Council gives Vinci and St Modwen's plans the go-ahead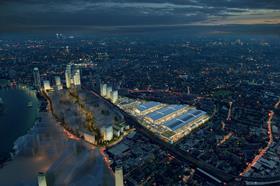 Developer St Modwen and contractor Vinci have been granted planning permission for their £2bn Covent Garden Market scheme by Wandsworth Council.
The project, in London's Nine Elms area, includes a new 500,000ft2 market; 3,000 homes and 135,000ft2 of office space.
The scheme which was drawn up with the Covent Garden Market Authority, will also be 100,000ft2 of retail, leisure and community facilities.
Bill Oliver, chief executive of St. Modwen and director of the 50/50 joint venture with Vinci, said: "Wandsworth Council's decision allows us to contribute to the long-term transformation of London's newest residential and commercial quarter whilst securing the future of New Covent Garden Market by delivering vitally important world-class market facilities."
Pam Alexander, chair of the Covent Garden Market Authority, added: "New Covent Garden Market is central to supplying London's fresh produce.
"With our development partners Vinci St Modwen, we can now deliver the modern facilities that will enable our 200 business to grow and thrive whilst welcoming the public to a new Food Quarter for London."