Joint venture development team wins outline consent for major scheme near Norwich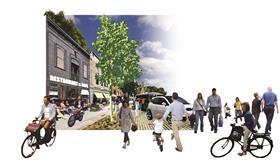 Development Securities and joint venture partner Beyond Green have won outline planning consent for a 3,520 home mixed-use scheme near Norwich.
The urban extension, on a 207-acre site north of the city at North Sprowston and Old Catton, will comprise up to 3,520 homes, 16,800 sq. m of commercial space, up to 8,800 sq. m. of retail space, two primary schools, a hotel and extensive landscaped public space.
Development of the scheme to date has involved Copenhagen-based Gehl Architects and urban designers Paul Murrain and Jeremy Caulton.
The two joint venture partners entered into a ten-year promotion agreement with a consortium of landowners to bring forward the complex planning application in 2010. The consented scheme will deliver a key element of the Greater Norwich Development Partnership's plans for 37,000 new homes across its area by 2026 and forms part of Broadland District Council's proposed 'Growth Triangle', which will deliver at least 7,000 new homes by 2026 rising to 10,000 after 2031.
The development will be delivered in phases over the next 15 to 20 years with a start on site anticipated in late 2015 for the first phase of residential-led development comprising 590 new homes.