Scheme to revive historic street lost in the 1980s
Gensler has been given the green light for a scheme involving the partial demolition and regeneration of a Richard Seifert office block in Covent Garden.
The architect will transform the 1980s block at 90 Long Acre for real estate firm Northwood Investors, which own the building, after the scheme was cleared by Westminster council earlier this month.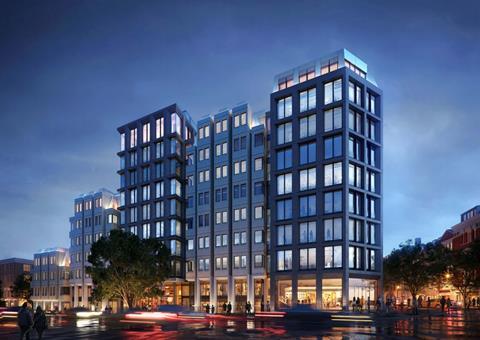 Arup is on the project team as structural and MEP engineer, facade consultant and fire consultant, alongside cost consultant Core 5, planning consultant Gerald Eve and development manager Platform.
The existing building consists of a grid of blocks up to 11 storeys high. It was designed in the early 1980s by Richard Seifert, the architect behind Centre Point and the NatWest Tower, now known as Tower 42.
The scheme will include replacing the existing building's corner block with a taller structure, filling two existing gaps in the building with two 10-storey infill blocks and adding two extra storeys onto another block.
Gensler will also transform an uncovered atrium at the centre of the scheme into a new glass-roofed public realm square, linked to the surrounding streets via two new alleyways.
It will revive the historic Wilson Street, which previously ran through the 0.5ha site prior to its redevelopment by Seifert.
Gensler said that full demolition had been considered but was ruled out due to the "architectural merit" of the building and to reduce unnecessary carbon emissions.
The building will remain as an office block from the first floor and above with seven new retail units created at street level.