Mixed-use project in Poplar will deliver 3,000sq m of commercial space and 785 homes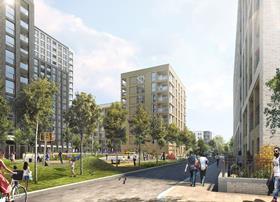 Tower Hamlets council has given the green light to a new £350m mixed-use regeneration scheme in Poplar, east London.
The Ailsa Wharf project, led by a consortium of property developers Galliard Homes and Lindhill, will look to transform a contaminated 2.5ha plot of land next to the River Lea which has been barren for a number of years.
Stockwool, which is behind plans for a regeneration of nearby Whitechapel Central, is the architect on the project. Work is due to start next year, with completion due in 2021.
The approved plans will create 3,000sq m of commercial space in 13 buildings varying between three and 17 storeys.
A link will be created through the site to a new river walk, alongside the potential for a new footbridge across Bow Creek linking Tower Hamlets to Newham.
The 785 homes being built will range in size from one bedroom apartments to four bedroom town houses, with just over a third affordable.
According to Stockwool, the redevelopment now has the potential to kick-start a wider generation in Poplar Riverside, particularly the sites to the south including Iron Mountain and the Nairn Street Estate, offering a blueprint to the redevelopment of former industrial land adjacent to Bow Creek.
Last week, Stockwool won planning permission for the 785-home residential development. Because of its size, the scheme was referred to mayor of London Sadiq Khan for final approval.