Kieran Timberlake-designed US embassy project in London's Nine Elms receives detailed planning permission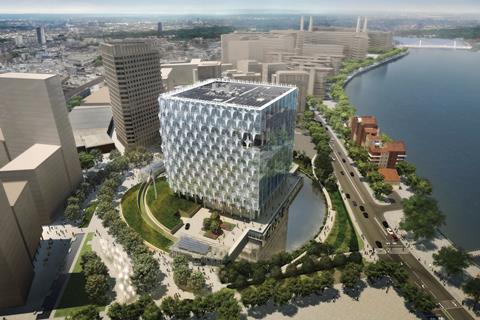 The Kieran Timberlake-designed US embassy project in London's Nine Elms has received detailed planning permission from Wandsworth council.
The council said it had given its backing to the detailed plans for the embassy, submitted for approval in July.
The scheme was awarded outline planning consent in 2010 and in April Building revealed that contractor Sir Robert McAlpine in partnership with US firm B.L Harbert - had won the £650m job to build the new embassy.
The Kieran Timberlake-designed scheme is centred around 'the Chancery' - an 11 storey cube shaped building – and lies at the heart of London's Nine Elms regeneration area.
The north facing elevation is largely glazed, while the other three sides of the building have a distinctive outer shell made from a transparent material called ethylene tetraffluoroethylene (ETFE), with integrated photovoltaic panels to harvest solar energy.
Three single storey entrance pavilions would be located on the perimeter of the site to control access to the main building.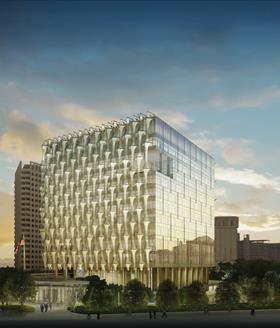 Photovoltaic panels would be installed on the roof and the main vehicle access to the site would be from Ponton Road which is currently being realigned.
The scheme would provide new public open space including landscaped gardens, walkways and a large pond designed by Olin landscape architects.
There would also be space set aside for a new Barclay cycle hire docking station. The area immediately south of the site is set to become a new public plaza. This new open space would form a key link in a linear park which will run all the way through Nine Elms from Vauxhall Cross to Battersea Powers Station.
Wandsworth council's planning chairman Cllr Nick Cuff said: "This remarkable building will be a fitting centerpiece for the new Nine Elms and could be among the highest performing buildings in the world in terms of energy use and sustainability.
"The Embassy's move is already acting as a magnet for new investment in this part of London which has started to change on an enormous scale. Once it opens its doors the complex will attract more than 1,000 visitors everyday – boosting the local economy and brining new life to this stretch of the South Bank."