Architect Feilden and Mawson's plans for a dedicated education centre at the Place of Westminster have been given the go-ahead by planners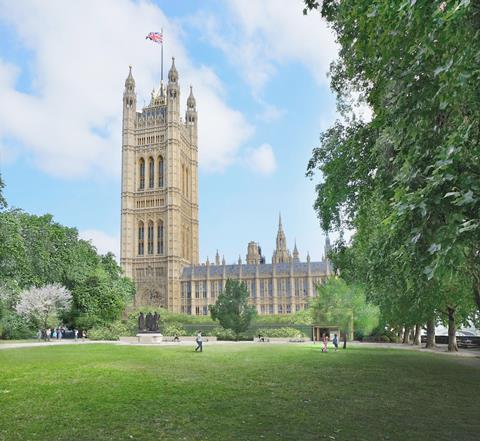 The scheme, located in Victoria Tower Gardens, is aimed at increasing the number of school children visiting the Palace of Westminster from 45,000 to 100,000 per year.
Feilden and Mawson designed the scheme in conjunction with landscape architect Kim Wilkie to produce a building that is part of the landscape setting of the Palace of Westminster.
Alan Robson, partner at Feilden+Mawson, said: "We are delighted at the news. Victoria Tower Gardens abuts a World Heritage site so naturally coming up with an acceptable design proved very challenging.
"It has also been rewarding to design a scheme that aims to increase numbers of school children visiting the Palace to learn about our country's democratic processes.
"The idea behind the design was something that was self effacing, that enhances the surrounding park and the Palace of Westminster."
Dr Emma-Jane Watchorn, head of Parliament's Education Service, said: "Over the coming years, this exciting new centre will help us inspire and connect hundreds of thousands of young people with Parliament and democracy."
A new crescent shaped path and embankment will create a new end to the park, a powerful setting for Rodin's Burghers of Calais and reconnect the Palace of Westminster's Southern façade to Victoria Tower Gardens.
A south facing seat, planted embankment and roof planting of English hedgerow species will create a congenial and bio-diverse edge to the gardens.
Once the planting is established the bronzed clad entry will be the only visible element of the Education Centre when viewed from the park.
The south elevation has low eaves from which the roof rakes up to an East/West service spine.
The rear of the building is centred around a service spine and a glazed concourse.
The top of the spine wall corresponds to the Palace's Principal Floor level and frames the view from Abbingdon Street down Black Rod's Garden to the River Thames.
The building is designed to achieve an BREEAM excellent rating.