Segro and Barratt London will deliver 230,000 ft2 of industrial space and 1,300 homes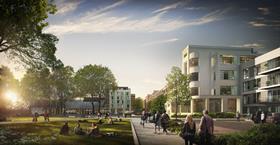 The proposed mixed use scheme at the former Nestlé factory in Hayes, Middlesex has achieved planning committee approval from Hillingdon council.
The scheme, which will be delivered by industrial developer Segro and housebuilder Barratt London, will see around 1,300 new homes neighbouring 230,000 ft2 of industrial space, the latter of which will be completed by summer 2019.
Segro will be responsible for the industrial element and Barratt London in charge of delivering the homes and community space on the site.
The scheme will also see the delivery of a 1.3km public trail to a redeveloped canal front, as well as improvements to the local road junctions, along with 2,000 cycle spaces, electric vehicle charging points and landscaping.
Sergo and Barratt London said that when built and occupied, the Nestlé development will boost the local economy by up to £130m, with the residents in the new homes boosting retail expenditure in the region be between £7.5m and £10m each year.
Around 350 hobs will be created during the construction phase, and around 500 permanent roles created by the employment space delivered by Sergo.
Both firms will work with Brunel University and Uxbridge College to launch skills training packages to ensure local people are prepared to apply for the jobs generated by the scheme.
A new supply chain initiative will also be developed to ensure that smaller businesses and enterprises in and around Hillingdon will be able to compete for construction contracts.
The 30 acre site was acquired by Sergo in 2015 and is less than a mile from junction 3 of the M4 motorway. It is also next to the Hayes and Harlington railway station, which will become a Crossrail station in 2019.