Project first submitted for approval in 2015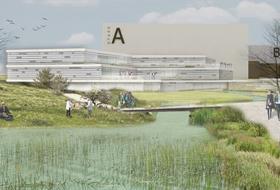 Scotland's first ever purpose-built film and television studio has taken a big step forward after receiving planning permission in principle.
Developer PSL Land is now working towards securing planning in detail for the multi-million pound project, which will be located near Straiton, outside Edinburgh.
The project, which first had plans submitted in May 2015, was granted the first stage of planning consent by Scottish ministers just before Christmas.
PSL first sought permission from the Scottish government in November 2015 after extended delays in the process with Midlothian Council.
A statement from the developer at the time said: "Whilst remaining committed to working with Midlothian Council, PSL Land yesterday wrote to the Scottish government to call-in their planning application to deliver an International Film Studio at Straiton to the South of Edinburgh, on the grounds of the delay in determining the project by Midlothian Council."
"PSL Land Ltd began pre-application discussions with Midlothian Council in mid-2013, receiving strong early support from officers and elected members of the Council for the project. Considered to be a very significant inward investment into both the local area by providing over 900 jobs, as well as an International Film Studio for Scotland, the development is also a catalyst for wider economic renewal within the Midlothian area."
Engineering firm WSP was appointed to assist in the planning of the studio in 2014, with the company engaged to remain involved as the project progresses.
It will provide support on the civil and structural, environmental and geotechnical areas of the development.