Planning consent for Countryside Properties and The Guinness Partnership scheme in south London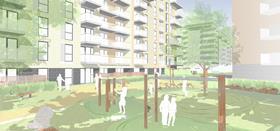 Countryside Properties and The Guinness Partnership have received detailed planning permission for the second phase of the regeneration of Guinness South's Loughborough Park Estate in South London.
The consent covers detailed planning permission for 95 affordable rented apartments in two buildings of up to eight storeys.
Most of the homes have one or two bedrooms, but 20% will be larger, family homes.
The consent includes the demolition of existing Farmleigh House and Holmbury House to continue the regeneration of the 1930's estate, which at present falls below current housing standards.
The value of the works will be approximately £15m and will commence on site in July 2013 for completion around July 2015.
The construction value of the whole estate at Loughborough Park is around £70 million to develop 525 homes in total.