Designed by SOM the towers located in Elephant & Castle are set to soar up to 30-storeys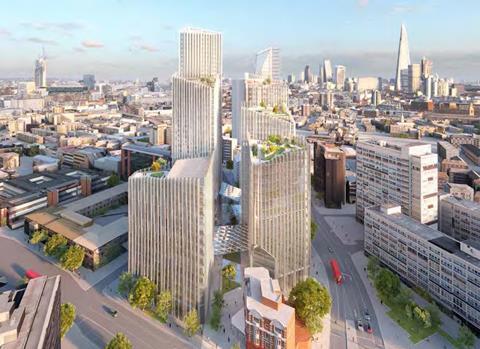 London & Properties' stepped "Toblerone" towers designed by SOM have been given the go-ahead by Southwark Council.
The towers, rising up to 39 storeys, are to be constructed on the site of 1980s office building Skipton House, London South Bank University's Perry Library and the London Borough of Southwark Hostel in Elephant & Castle.
The buildings will house 408 private homes, nearly 50,000m2 of office space, 1628m2 of retail space and feature a 350-seat auditorium and cultural space, as well as several roof terraces, including one public terrace.
The developer is looking to provide affordable housing elsewhere equivalent to the value of £16.9m and is currently engaged in identifying a suitable spot.
Objections to the scheme were raised by the Royal Parks in relation to its potential impact on the protected views from the park's Blue Bridge and sky space, while Historic England objected over the impact to the protected view from the Serpentine Bridge and the listed buildings within Westminster, claiming the new development would reduce their visual primacy.
Meanwhile the Twentieth Century Society objected to the impact on the Erno Goldfinger designed Grade II listed Metro Central Heights.
However, the report from Southwark's director of planning Simon Bevan said officers considered the proposal to have a "minimal impact" on the views.