Development of 150 homes in rural Herefordshire given council approval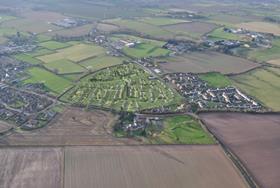 The UK's largest Passivhaus housing scheme was given planning permission this week.
The scheme, designed by architect Architype, will see 150 houses built in the rural town of Kingstone in Herefordshire.
The homes will spread across 20 acres and be designed to the tough Passivhaus standard which ensures buildings have a very low energy usage. The development also includes five small business units.
The scheme is being developed by ArchiHaus, a joint venture between Architype director, Jonathan Hines and Swedish businessman, Lars Carlsson.
Jonathan Hines, director of Architype, said he was "delighted" the planning committe had "recognised the visionary and innovative approach" of the scheme.
He said: "It has been a liberating experience to rethink our role as architects and tackle the issue of housing development from first principles. This scheme will establish a new benchmark in housing development, by demonstrating that better design quality and Passivhaus can be achieved as standard."