Scheme will provide 117 social homes
Contractors are chasing a £45m deal to build a modular social housing scheme in Greenwich.
The job for Greenwich council will see four blocks built ranging in height from four to 10 storeys, providing 117 social rent homes, a 417m2 nursery, 47m2 of community space, some public realm space and a substation.
The council is looking to shortlist ten firms for the 18-month job, which has been designed by HTA Design and will involve some modular construction. WSP is also on the project team as environmental and archaeological consultant.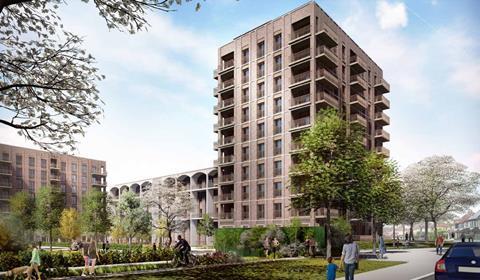 It is part of 'Greenwich Builds', a housebuilding programme launched by the council and part funded by the mayor of London which aims to start work on 750 new homes in the borough by no later than 2022.
Part of the site is classified as being at high risk of surface flooding, meaning it will require small ditches to be built to reduce surface water.
Firms have until 19 October to express interest, with invitations to tender due to be sent out on 9 November.