Main contractor's onsite boss left company 14 months into project as schedule began to slip
Grenfell main contractor Rydon's first project manager on the tower block refurbishment quit the company because of work pressures, the inquiry into the disaster has heard.
Simon O'Connor was project manager for the Grenfell Tower job from May 2014 to July 2015 – when he resigned and was transferred to another Rydon project in north-east London to work out his notice.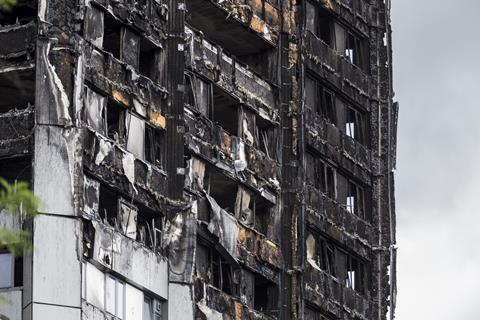 Thursday's session of the Grenfell Tower Inquiry heard that the west London tower – which caught fire in 2017 with the loss of 72 lives – had been O'Connor's first job as project manager with Rydon, even though he had worked for the firm since 2002.
Although O'Connor was physically present at the session, inquiry chair Sir Martin Moore-Bick last year accepted an application that he should not be visible while giving evidence. When O'Connor responded to questions the inquiry's holding screen was displayed on its streaming service.
Inquiry barrister Richard Millett QC asked O'Connor about his experience of project management and working on cladding projects.
O'Connor said he had worked his way up in Rydon after starting as a foreman, adding that, although he had worked on the firm's tower block cladding project at the Chalcots Estate in Camden, he had not been involved with the cladding and that Grenfell was his first experience of such work.
Asked whether he had ever familiarised himself with the detailed properties of aluminium composite material (ACM) cladding, the kind used at the Chalcots and Grenfell, O'Connor said he had not.
Millett asked O'Connor if he had been familiar with Building Regulations during his time on the project.
"I was aware that they were there, but wasn't familiar, no," O'Connor replied.
Millett asked O'Connor whether Rydon had a system of educating its project managers on Building Regulations. O'Connor said: "I don't believe so."
He added: "There was no training to say 'make sure you read this document' or 'make sure you read that document'."
Asked why he had left Rydon, O'Connor attributed the decision directly to the demands of the Grenfell contract.
"There were a lot of pressures at the project at Grenfell," he said. "We were falling behind programme; there was a lot of pressure and I was given the opportunity to join another company for significantly more money."
Asked about the pressures on site, O'Connor cited "extremely long days" that were affecting his home life and said that when he was given the opportunity to leave he did not take the decision lightly but added he "couldn't turn it down".
O'Connor told the hearing that he was aware work on the Grenfell Tower refurbishment was running roughly nine weeks behind schedule by May or June 2015. Thursday's session heard that work was around 12 weeks behind schedule by October of that year.
Millett asked O'Connor whether he had ever carried out checks on products installed as part of the Grenfell refurbishment and discovered that an incorrect item had been received or fitted. O'Connor said he did not recall such a situation.
Under further questioning, O'Connor said the use of incorrect products would most likely have been spotted by Rydon when the work was "offered" to the firm for inspection by subcontractors.
"The subcontractors would order materials and they would be delivered to site," he said. "They wouldn't have particularly been checked by a Rydon manager. We were using trusted, tried and tested contractors."
Millett asked whether any checks on products were made earlier on, either at the ordering stage or the delivery stage, to make sure that the correct items were coming onto site and being installed. O'Connor replied: "I don't believe so."
He was asked whether he was aware that Kingspan Kooltherm K15 insulation was used on Grenfell Tower as well as well as the specified Celotex RS5000. O'Connor replied that he was not.
Millett said the inquiry team could find no record of a different product other than the specified Celotex RS5000 being installed at Grenfell.
O'Connor said he could not explain why there was no record of an incorrect insulation product having been installed.
Thursday's session heard that other undocumented product substitutions on the project included swapping Kingspan TP10 infill panels between windows for a Styrofoam product.
The inquiry continues.