Hammerson has reported a drop in its pre-tax profit for the first half of 2015.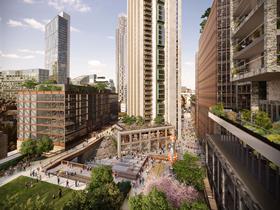 Retail property developer Hammerson has reported a 9.2 % drop in pre-tax profit to £329.4m for the six months ended 30 June 2015 compared to the same period for 2014.
The firm, whose portfolio comprises 11 major shopping centres and is valued at £7.9bn, attributed this drop in profit to "lower property revaluation gains in 2015" saying that compared with 2014, net revaluation gains were £61.2m lower in 2015.
Hammerson added that a 9% depreciation of the euro against sterling during the first half of 2015 also adversely affected the group's profit.
However, gross rental income was up by 2.1% to £118.3m for the first six months compared to £92.9m for 2014.
On its development pipeline, Hammerson reported that the compulsory purchase order (CPO) inquiry process on its joint venture with Westfield for the redevelopment of Croydon shopping centres Whitgift and Centrale had concluded and a decision was expected in the autumn. The firm added that the venture now owns the majority of the land interests required for the 200,000m2 scheme and enabling works could start in 2016 with potential completion in 2019/20. They are already in discussion with a number of potential tenants.
Hammerson said the CPO process for its regeneration and 90,000m2 extension at Brent Cross, in partnership with Standard Life Investments, had been initiated and subject to confirmation of CPO powers by the secretary of state, works could begin on site in 2017 with potential completion in 2020/21. A reserved matters application for the highways and infrastructure works is due for final consent in the autumn. A key element of the masterplan is a 90,000m2 extension to Brent Cross shopping centre.
In June 2015 Hammerson, in joint venture with Ballymore, submitted amendments to its planning application for Bishopsgate Goodsyard and it said it was aiming for "a resolution to the amended planning application by the end of the year".
The firm also reported that during the first half of the year it had signed a new £415 million unsecured revolving credit facility with a syndicate of nine banks with a maturity of five years. It replaces the firm's existing £505m facility which is due to mature in April 2016.
David Atkins, chief executive at Hammerson, said: "The business has performed very well in the first half, underpinned by robust consumer confidence and an active asset management strategy" and that good progress had been made on its development pipeline with four schemes on track to open in 2015.
He added that the in France, its business "proved resilient against a consumer backdrop which remains challenging".