Exclusive: Government's chief construction adviser eyes intergration of low carbon agenda and cost-cutting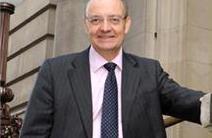 The industrial strategy for construction will look to integrate the low carbon agenda with the wider cost and efficiency drive across the industry, the government's chief construction adviser has said.
Writing exclusively for Building, ahead of the Government Construction Summit next week, Peter Hansford suggested the industrial strategy for construction - expected to be published at the summit - would look at ways to bring together aspects of the reform agenda across the industry.
Hansford cited the example of linking the government's BIM strategy with industrial strategy, as well as the low carbon agenda.
To read Peter Hansford's comment click here
He said: "What about the potential of BIM to help us achieve our ambitions in low carbon construction? We have been pursuing the cost and efficiency agenda alongside the low carbon agenda, but how do we these initiatives fit together?" He said the industrial strategy "displays real ambition", before adding, "now we must go out and make it happen".
It is understood that the industrial strategy will also outline plans for a council of industry leaders to be set-up to oversee its implementation. It is expected to have a similar membership to the Construction Industrial Strategy Advisory Council, which currently includes Ray O'Rourke, executive chairman oLaing O'Rourke; Mark Clare, chief executive of Barratt Developments and Mike Putnam, chief executive of Skanska UK.