Architect Drmm's planned £14m restoration of derelict Hastings Pier is set to go ahead after the council took on the ownership of the pier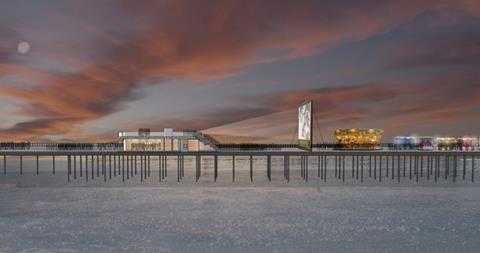 The 140-year-old structure was almost completely destroyed by fire in October 2010.
The Pier was owned by a Panamanian company called Ravenclaw. However, Hastings council issued the company with a compulsory purchase order last year after it failed to carry out repair work.
The council took over the pier this week, with the Hastings Pier Charity now leading the revamp programme.
The project team also includes engineer Ramboll and cost consultant KMCS.
The scheme will see the construction of a visitors centre, restaurant, roof top viewing terrace on the restored pier.
Renovation work is due to start later this month, which will include refurbishing the remaining pavilion and building a new visitor centre.
The project is due to be completed in the spring of 2015.
Simon Opie, Hastings Pier Charity chief executive told the BBC: "We want to offer a 21st Century take on the traditional English pier and for it to be used often by locals and visitors alike, a 'people's pier'."
- Look out for a feature on British pleasure piers in tomorrow's special tablet-only edition of Building.