University of Bristol also chooses Danish practice Schmidt Hammer Lassen Architects for development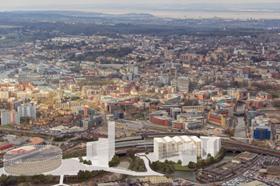 The University of Bristol has appointed British architect Hawkins Brown and Danish practice Schmidt Hammer Lassen Architects to design a new £80m library development. Engineers Buro Happold have also been chosen for the project.
A full public consultation on a more detailed design will begin next spring before a planning application is submitted to Bristol City Council.
The new library at the university's Clifton campus will replace The Hawthorns – a former hotel that currently houses some student accommodation, catering facilities and offices.
There are plans to include exhibition spaces, reading rooms and a café for students, staff and the public, with the new library will also include a cultural collections centre to provide access to the university's range of historic books and archives.
Hawkins Brown's recent higher education buildings include the UCL Bartlett School of Architecture; the Bob Champion Research and Education Building for the University of East Anglia and the ongoing Beecroft Physics Building at the University of Oxford.
Schmidt Hammer Lassen's library projects include the Sir Duncan Rice Library at the University of Aberdeen; Dokk1 in Aarhus, Denmark – Scandinavia's largest public library; and Halifax Central Library in Canada.
Last year, the University of Bristol unveiled plans to revamp its Clifton campus along with the creation of a new £300m campus by Bristol Temple Meads railway station (pictured).
It said the plans revolve around transforming the area around Tyndall Avenue and Woodland Road over the next five years to provide improved facilities for students, and improve the public realm.