Housing quango moved to have call for a replacement for the Code for Sustainable Homes cut from NextGeneration report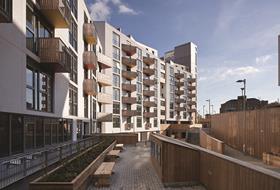 A recommendation that the government should introduce a replacement for the Code for Sustainable Homes was removed from a high-profile report on sustainability, following the intervention of the government's housing quango, Building has learnt.
This week, Jones Lang LaSalle published the NextGeneration report, which benchmarks housebuilders on the sustainability of their homes and their business.
An early draft of the report, seen by Building, was critical of government's proposal to abolish the Code for Sustainable Homes, which formed part of the government's Housing Standards Review, and recommended that a replacement for the code be put in place should it be scrapped.
The Housing Standards Review proposes using Building Regulations or national standards as the driver for improvement in homes' green credentials, rather than the code. Consultation on the review's proposals closed in October.
But the early draft of the report praised the "recognition" that code certification gave housebuilders that built to a higher sustainability standard than Building Regulations, adding: "Uncertainty surrounding the future of the code has been a contributing factor to poor research and development scores this year."
It recommended: "The government should consider what will replace this valuable function, so that due recognition is given to top performing companies."
However, Building has been told this section was removed from the final version of the report after representatives from the Homes and Communities Agency (HCA), who sit on the executive board of the NextGeneration initiative, objected to the inclusion of the section on the code in the report.
The HCA provides core funding to the NextGeneration initiative, though it is also funded through membership fees from housebuilders.
A spokesperson for Jones Lang LaSalle (JLL) said: "In discussion between the HCA and Jones Lang LaSalle, it was decided not to include comment on the Code for Sustainable Homes in the report due to the fact that the Housing Standards Review consultation closed in October and is now under government review, and no final decision has been made on the outcome of the review.
"Given that the future of the code is currently being examined, we felt it would be premature to publish comment as it would date the report to discuss this in detail."
A spokesperson for the HCA said: "As outlined by JLL, the decision to remove comment in the NextGeneration report on the Code for Sustainable Homes was the result of joint discussions between the HCA and JLL.
"Given the timing of the Housing Standards Review consultation, which closed in late October and is currently under discussion, it was felt that would not have been appropriate to publish anything that might have pre-empted the outcome for this."
The full report found that Berkeley was the most sustainable housebuilder, scoring a record 91% against the benchmarking criteria.
It was closely followed by Crest Nicholson with 87% and Miller Homes with 84%.