Heathrow calls on consultants to express interest in third runway work, despite government not yet making decision on new runway location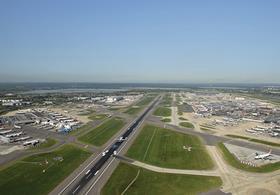 Heathrow Airport has started the tendering process for work on a third runway, despite the project not yet receiving the go-ahead from government.
Heathrow Airport Holdings has called on consultancy firms to express interest, and demonstrate experience, in four areas it needs to deliver its programme for a new runway: programme management, information management, construction advice, and technical and design advice.
Interested firms have until Friday 16 October to respond, after which Heathrow will draw up a shortlist of potential suppliers.
Shortlisted companies will then be formally invited to tender in November, with a decision on preferred bidders expected to be made in early 2016.
The airport is pressing ahead with expansion plans after the Davies Commission report into airport capacity in the south east unanimously recommended a third runway at Heathrow.
However, a final decision on the location of a new runway has yet to be decided, with a second runway at Gatwick still a possibility.
A Heathrow spokesperson said: "We need to be prepared to kick-start expanding Heathrow as soon as the Government gives a green light - if they give a green light - so this expression of interest work will help us bulk up on some core competencies ahead of a decision from government."
Speaking in a Q&A session at a London First event in July, Heathrow's chief executive John Holland-Kaye said the airport would have a conference with the supply chain in September and would be "going out to tender probably December or January to get the supply chain ready."
Holland-Kaye added that the airport is aiming to start construction work on a new runway by 2020, and expects to have the runway completed by 2025.
However, head of secretariat at the Airports Commission, Philip Graham, who was also at the event in July, said he was "more pessimistic" and gave a target of 2026 for completion.