Airport reveals plans to spend around £5m, despite no government announcement until next summer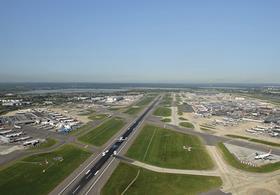 Heathrow airport has revealed it plans to spend around £5m next year working up plans for a new runway, despite a government announcement last week that it will not give its backing to expansion of either Heathrow or its rival Gatwick until at least next summer.
Heathrow airport told Building there will be no delay to the ongoing procurement of four consultancy packages for the third runway – programme management, information management, construction advice, and design and technical advice. The airport said it will spend between £4m and £5m on the packages in 2016.
Heathrow sought expressions of interest for the consultancy roles in October, with shortlisted firms formally invited to tender last month. Contracts are expected to be awarded in early 2016.
Further runway postponement could cripple the country's competitiveness

Richard Robinson, Aecom
Heathrow's comments come after the government last week announced it had put back its decision on airport expansion for a further six months in order to undertake further research on the environmental impacts of both the Heathrow and Gatwick proposals.
Construction leaders at heavyweight firms including Arcadis, Aecom and Mace expressed their dismay at the further delay.
Writing in this week's Building, Simon Rawlinson, head of strategic research and insight at Arcadis,å said the delay was potentially damaging to the authority and effectiveness of the National Infrastructure Commission (NIC).
He writes: "Following last week's announcement, can Lord Adonis really be confident that the findings of the NIC will be accepted and acted on, or will they also be subject to delay and further review?"
Richard Robinson, Aecom's chief executive for civil infrastructure in EMEA, said: "The country is already lagging behind global rivals […] Further postponement could cripple the country's competitiveness."
Mace chief executive Mark Reynolds said: "This further delay will cost the UK economy another £5bn and put us even further behind other European cities that already operate major hub airports."