Plans include a tunnel for the M25 under the proposed third runway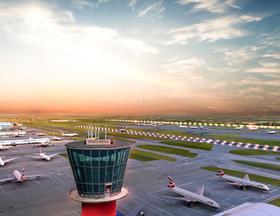 Heathrow has opened a 10-week public consultation on its £14bn expansion plans, which include building a tunnel for the M25 under the proposed third runway.
The consultation will be composed in two parts, the first of which relates to the physical changes needed to build the new north-west runway and operate the expanded airport.
Feedback is being sought on elements including the runway, with length varying between 3,200 and 3,500 metres; locations to expand terminal infrastructure: east of Terminal 2, west of Terminal 5 or a new satellite terminal by the new runway; moving the M25 150m to the west, and lowering it by 7m in a tunnel and raising the runway so it passes under the M25.
The second part of the consultation relates to potential rules that could apply when designing the new space required for the expanded airport.
Heathrow said changes to airspace will improve resilience and punctuality for passengers while reducing noise, emissions and the number of late-running flights but at this stage, future flight plan options are not being consulted on.
The consultation is open until 28 March and is inviting responses to be submitted at any of the 40 events being held in communities surrounding the airport and online, via email or post.
The proposals will then be subject to a second public consultation next year, with parliament expected to vote on a National Policy Statement in the first half of this year that will set out the policy framework for the airport's first planning submission.
Emma Gilthorpe, executive director of expansion at Heathrow, said: "We want an expanded Heathrow to be the world's best airport, ensuring that our country and its future generations have the infrastructure they need to thrive.
"We need feedback to help deliver this opportunity responsibly and to create a long-term legacy both at a local and national level. Heathrow is consulting to ensure that we deliver benefits for our passengers, businesses across the country but also, importantly, for those neighbours closest to us."
Last month, Heathrow revealed plans to save £2.5bn on the cost of the third runway expansion scheme by dropping plans for a new dedicated new terminal.
The cost of the project has been whittled down to £14bn and the airport is proposing to build additional capacity at Terminals 2 and 5 instead of a new terminal for the proposed northwest runway.