Representatives will visit 65 shortlisted applicants as it searches for four off-site construction locations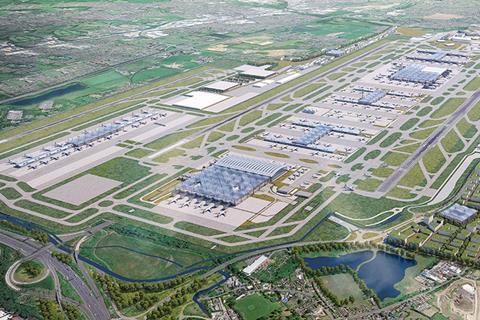 Heathrow has launched a nationwide tour of 65 sites still in the running to be the off-site construction centres for its £14bn expansion.
In November, it unveiled the list of logistics hubs for its third runway expansion programme. These include sites proposed by Laing O'Rourke, Balfour Beatty and Severfield.
The shortlist of 65 were chosen from 121 applications published in September and once finalised, the final four locations will pre-assemble components of the expanded airport before transporting them in consolidated loads to it.
Heathrow said that during each site visit, applicants will need to demonstrate "engineering prowess", a skilled and dedicated workforce, capability to collaborate on the project and good connectivity allowing output to be easily transported to the airport.
The visits will begin at Leeds Bradford Airport over the coming months, where its chief executive David Laws will host Heathrow chairman Lord Deighton on a tour of its site. A pre-qualification questionnaire process for all applicants with then open later this year.
This announcement comes ahead of an expected parliamentary vote on the policy framework in the first half of this year.
The expansion will be the first major infrastructure project to use off-site construction sites. Heathrow said the hubs will help drive job creation, boost productivity and modernise the construction industry outside of London and the south east. It will ensure 60% of procurement spend will be outside the capital, spreading the benefits of local investment throughout the country.
Deighton said: "All of this comes at a pivotal time for our country, as it prepares itself to leave the EU and where we need to build for our future in both travel and trade."
Last month, Heathrow opened a 10-week consultation on the expansion plans, which include building a tunnel for the M25 motorway under the proposed third runway.
This followed plans from Heathrow to save £2.5bn on the cost of the scheme by dropping proposals for a new dedicated terminal.
The cost of the project has been whittled down to £14bn and the airport proposed to build additional capacity at Terminals 2 and 5 instead of a new terminal for the proposed northwest runway.