Exclusive: Three contractors invited to bid for Land Securities' £90m 1 New Street Square job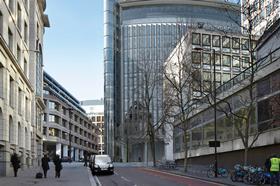 Mace, Skanska and Sir Robert McAlpine are battling it out for the £90m job to build Land Securities' 1 New Street Square office in the City of London, Building can reveal.
Land Securities confirmed the three London heavyweights have been invited to bid for the project, which is designed by Robin Partington Architects, with bids expected to be submitted this month. It is understood Lend Lease was dropped from the race at an earlier stage.
Land Securities declined to comment further on the project.
The contract race is a reprise of that for the £500m Scalpel Tower for US insurance firm WR Berkley, which saw Skanska beat off competition from Mace, after Lend Lease and Sir Robert McAlpine dropped out at an earlier stage.
The job, which construction industry analyst Barbour ABI values at £90m, is one of the largest commercial schemes currently on the market and will comprise 256,813ft2 of commercial and retail space.
The project, which received planning permission in October 2011, involves the demolition of the three existing buildings on the corner of Shoe Lane and Little New Street, in the City of London, and the construction of one 16-storey building.
Construction work is expected to start in January 2014, after demolition work began in March. The project is scheduled for completion in July 2016. Gardiner & Theobald is the quantity surveyor on the project and Waterman Group is the engineer.