Developer Helical Bar has posted nearly £70m in profit and said it is well positioned for future growth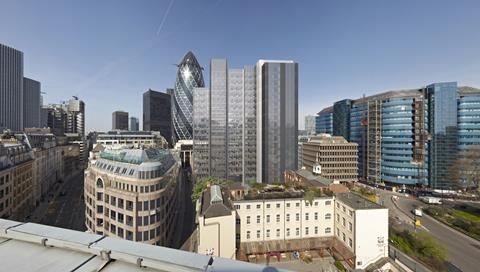 In its results for the six months to 30 September, the developer posted pre-tax profit of £68.9m - a massive jump on the £5.2m posted over the same period last year.
The firm said its development portfolio was delivering "super profits", with £62m received from its schemes at 200 Aldersgate and Brickfields, White City, both in London.
The firm said it had received resolution to grant planning at three other major schemes:
207-211 Old Street, London EC1, a 396,000 sq ft refurbishment
King Street, Hammersmith, London, a town centre regeneration scheme in joint venture with Grainger
Cortonwood, South Yorkshire, for a 98,000 sq ft extension to an existing retail scheme
Meanwhile, it said demolition of the existing buildings on the site of its 1 Mitre Square development (pictured) in the City of London had completed, with the scheme ready for development when the firm secured a pre-let or obtained a financial partner.
Earlier this year Building reported Balfour Beatty, Skanska and Carillion were in the running for the £110m Sheppard Robson-designed 18-storey office building, which comprises 270,000 square ft of office space as well as retail units on the ground floor, two basement floor levels, access, parking and landscaping.
Michael Slade, Helical Bar chief executive said: "We have had an outstanding first half of the year and we look forward to announcing further improvements in our full year results to 31 March 2014.
"We are long both in central London offices and in high yielding secondary regional assets, the former to provide capital growth and the other to generate income and cash flow.
"This has been our aim and strategy for the last three years and I firmly believe we are reaping the rewards as London continues to grow and investors move up the risk curve and into the regions."