Schemes are among the first regional build-to-rent projects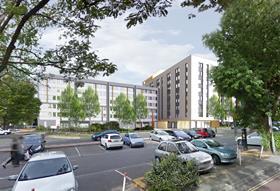 Henry Construction has been appointed on two office-to-resi conversion schemes in the South-east of England that will deliver 275 homes.
Client Westrock has selected the contractor to transform Babcock House in Crawley into 185 homes (pictured), and Stevenage Business Centre into 90 flats.
Westrock says the projects are some of the first build to rent schemes to target regional employment hubs, with the Crawley scheme designed to appeal to workers around Gatwick airport for employers such as Easyjet, while it's hoped staff at pharmaceutical giants like GSK will be interested in the Stevenage scheme.
DBK is cost manager on the two schemes.
Westrock has a pipeline of more than 1,400 homes for rent, with five schemes set to be completed this year.

Matt Willcock, head of development at Westrock, said: "A big part of what we do is redeveloping underused office space around the country and repositioning it as high quality homes. To do this, it's important we work with the right contractors capable of reimagining pre-existing buildings - Henry's work has been crucial in delivering our Crawley and Stevenage schemes."

Sean McDonagh, director of Henry Construction, said: "Both schemes that we've worked on have involved transforming tired buildings so they're fit for residential, while still complimenting the buildings' existing features. The work that's been done has hopefully set a new standard for rental accommodation in both towns."