Architect's makeover for postmodern Angel Square will add more storeys to 1990s block
Plans by AHMM to radically rework a postmodern landmark in Islington, north London have been given the green light.
Local councillors voted to approve the transformation of the early 90s Angel Square development, which was designed by Rock Townsend Architects, despite protests from heritage groups.
The proposals, designed for US investor Tishman Speyer, will see the building's external features, which include an Italianate campanile-style clock tower, stripped away and replaced with a glass facade.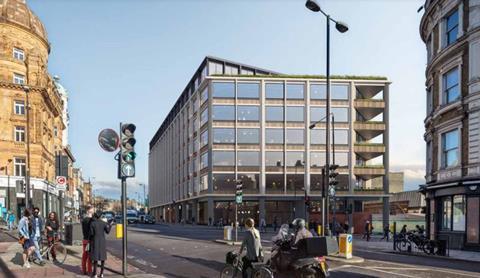 Others working on the scheme include T&T as project manager, Core 5 as QS, AKT II as structural engineer and ChapmanBDSP as M&E consultant.
Angel Square's current three blocks provide 15,000 sq m of office space and a pub, on the corner of Torrens Street and City Road. The building also includes the entrance to Angel Station on London Underground's Northern line.
The plans propose adding new storeys and increasing the office floorspace by around 7,000sq m.
But Save Britain's Heritage and the Twentieth Century Society had both objected to the makeover, which had been recommended for approval by the council's planning officer.
Islington's design review panel had concluded that the building, formally named 1 Torrens Street, "falls well short of the required design qualities deserving of protection, including listing".
The panel added that AHMM's replacement scheme was considered to be a "high quality design that is sensitive to its context".
It also said that the plans would "speak a similar language" to the adjacent 1980s office block the Angel Building, the redevelopment of which saw AHMM shortlisted for the Stirling Prize in 2011.
The panel said the two buildings would "through their quiet and subtle architecture, allow the richness of the historic architecture, form and detailing of the surrounding buildings and terraces to remain fully legible and visually dominant."
However, councillor Benali Hamdache said: "I'd rather it spoke the language of the buildings we're seeking to preserve at Angel rather than the slightly anonymous office building on a corner, particularly for a building at such an important junction."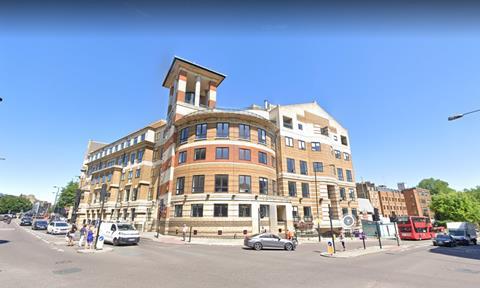 Calling for the scheme to be deferred, he added: "I look at this box [the AHMM scheme], and I don't see the inspiration it's taken from surrounding buildings, and I don't see that in 30 years' time that we'll look back at this building with much favourability, while we look at a building today that has interest…it might be marmite, it has problems… but I don't think [AHMM's refurbishment] meets the need for this important junction."
Hamdache was unable to secure the support of a seconder, meaning that a vote on a deferral was not held.
Other councillors were lukewarm about the scheme's design quality but praised its sustainability credentials and said it was an improvement on the existing block, which councillor Paul Convery called "an incredibly hostile building".
Planning committee chair Toby North concluded that there was not reason enough to refuse the application, which he said included a number of public benefits such as affordable workspace.