Sir David Higgins' report recommends private investment in redesigned Euston scheme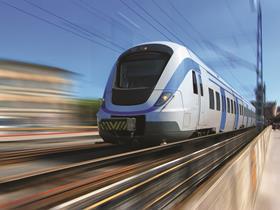 HS2 boss Sir David Higgins has recommended slashing three years from the timescale to build HS2 to realise the benefits of the £43bn pound scheme sooner.
In a report, published today, the chair of HS2 Ltd recommended introducing a hybrid bill for the second phase of the scheme, between Birmingham and Manchester and Leeds, in 2017, slashing three years from the total time it would take to build the scheme.
In his report Higgins said: "Put simply the shorter the timescale, and the more certainty about the timescale, the lower the costs will be. Less inflation is imported into the project, and contractors can achieve greater economies of scale because you can plan ahead."
He also said this would allow for the connection of a regional transport hub at Crewe by 2027, six year earlier than planned.
The report said said: "The aim should be to develop HS2's second phase alongside Network Rail's Strategic Business Plan for the five-year control period starting in 2019.
"If that is done successfully, then legislation to enable phase two could be introduced as early as 2017, with significant impacts on delivering benefits to the North sooner - up to three years earlier than currently planned."
Higgins also said in his report that "further work" should be done to develop an alternative plan for redeveloping Euston. He said this should include greater amounts of residential and commercial property to make it attractive to private sector investors.
The report also recommended that the government drop plans for a £700m link from HS2 to HS1, which it said was an "imperfect compromise" and of questionable value.
Higgins was tasked with finding ways to cut the cost of the scheme and improve it by prime minister David Cameron in November 2013 amid wavering cross-party support for the project.