Housebuilder posts strong results for 2014 calendar year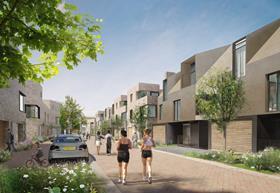 Housebuilder Hill has posted a 29% jump in pre-tax profit and revenue in strong results for the 2014 calendar year.
Pre-tax profit rose to £18m, up from £14m in 2013, while revenue grew to £258m, up from £201m.
Hill said its results were boosted by the recovery of the UK economy, low base rates and increasing consumer confidence, as well as the impact of the government's Help to Buy scheme. However, Hill said it faced an increase in build cost inflation over the year, while demand for labour outstripped supply.
The company said at the year-end they had a land bank valued at £107m and a pipeline of 1,275 dwellings, with a further 360 awaiting planning approval, which is expected to generate sales revenues in excess of £650m.
During the year the group was appointed by the University of Cambridge to build 249 homes at its North West Cambridge development (pictured) and is working with Grosvenor Developments and Oxford City Council building 237 homes in Barton Park in Oxford. The firm has also entered into a joint venture to build 140 homes in Southwark.
Andy Hill, chief executive of Hill, said it was landmark year for the company and that the firm remains "on target to increase our turnover to £450 million by 2016, with profits increasing to £30 million."