EDF tells suppliers to gear up ahead of final investment decision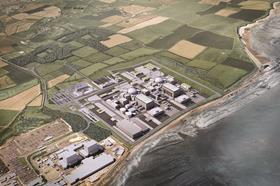 Construction suppliers on the mammoth £18bn Hinkley Point C nuclear power plant in Somerset have been instructed to restart "unconstrained spending" on the scheme by French client EDF ahead of an imminent final investment decision, according to a source close to the project.
The news came as suppliers waited with bated breath for EDF's long-awaited final investment decision on the project. Reports had suggested the decision could come at an EDF board meeting later today (27 January), but a report in French newspaper Les Echos this morning reveals the decision could be once again delayed due to "funding difficulties" and may not be announced until EDF's financial results on 16 February at the earliest.
Despite the delays the source said suppliers - which include heavyweight contractors Kier, Laing O'Rourke and Bouygues - will already be "gearing up" to deliver the work following the instruction from EDF.
The source added: "The indications [EDF is] giving suggest they just want to get on with the project. They haven't secured any additional funding. They're telling people to get on with it now and hoping they can fix the balance sheet later."
EDF declined to comment.