EDF's project director for £18bn nuclear power plant quits for new job in US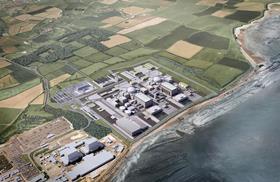 EDF's troubled £18bn nuclear power plant in Somerset has been dealt another blow after its project director quit for a new role in the United States.
Christopher Bakken has left his role as project director on Hinkley Point C, where he was responsible for the project's design, licensing, procurement, construction and commissioning.
The 30-year nuclear industry veteran will leave EDF after four years at the French company to become executive vice president and chief nuclear officer for US-based Entergy Corporation, effective from April 6.
In a statement, EDF said: "Chris Bakken has decided to return to the USA, his home country, to pursue new professional opportunities while allowing him to spend more time with his family."
The departure comes after reports suggested EDF's board is deeply split over making a final investment decision on Hinkley Point C.
The Sunday Times also reported that the British government could withdraw its financial support for Hinkley if a similar scheme being built by EDF in Flamanville, France, doesn't become operational by 2020.
Despite all this, sources close to the project told Building EDF has instructed suppliers on the Somerset power plant to restart "unconstrained spending" on the scheme, even though a final investment decision has yet to be made.