Kier and BAM JV agrees new deal for enabling works worth £203m, up from £100m agreed in 2012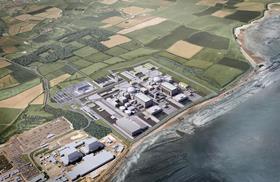 The cost of enabling works at the new Hinkley Point C nuclear power plant has more than doubled.
The BAM and Kier JV has moved to an NEC contract to carry out the works, which it said is worth £203m.
The original contract was widely reported to be £100m when it was signed in 2012.
EDF said it has also agreed final terms on contracts with a Bouygues and Laing O'Rourke JV for the main civils works, as well as agreeing terms with Areva NP, Alstom France and Alstom UK.
The Bam and Kier JV said the contract is expected to create 600 construction jobs in the local area, up from the 350 jobs it said it would provide in 2012.
The work includes substantial excavation of over 5.5million cubic metres of material, large scale earthworks, complex terracing structures and the creation of an expansive road network.
Commenting on the contract signing, Kier executive director for infrastructure and overseas, Sean Jeffery, said: "We have worked closely with the new nuclear team at EDF Energy to respond to key challenges, so we are proud of the role that we have played in helping the project to reach this critical milestone.
"It is an exciting time; we are at the forefront of the nuclear renaissance for the energy sector, and Hinkley Point C will be a seminal project for the industry.
"Today marks a key step change in momentum, and now enables us to recruit industry talent and local expertise in order to resource according to meet our expanded brief."
Stephen Fox, BAM Nuttall chief executive, said: "This is a significant milestone in the ultimate delivery of this scheme. We are proud to be associated with a project that will play a significant part in providing for the future energy needs of the United Kingdom."