Problem ground conditions send costs on Somerset nuclear power station heading north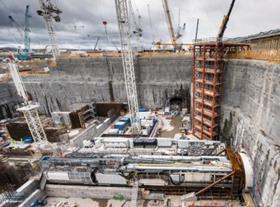 Hinkley Point C has become the latest UK infrastructure project to admit it is running billions of pounds overbudget.
Developers China General Nuclear and EDF are set to share an additional cost of between £1.9bn and £2.9bn for the nuclear power station they are developing in Somerset.
The increases will take the cost of the project up to between £21.5bn and £22.5bn, compared to an original budget of £18bn.
EDF said the costs have arisen as a result of "challenging ground conditions, which made earthworks more expensive than anticipated".
A contract for earthworks had previously been let to Kier-Bam for around £100m but the cost has now risen to between £250m and £500m, according to EDF.
EDF also said "extra costs [were] needed to implement the completed functional design" adding that the risk of the project running 15 months late had increased.
The exact amount of extra cash depends on the "effectiveness of action plans to be delivered in partnership with contractors" it added.
Hinkley Point C is the first nuclear new build in more than 20 years, with builders including Balfour Beatty, Laing O'Rourke, Bouygues, Skanska and Costain working at the site.
The project overrun is a blow to the British nuclear industry, which has already seen plans for new power plants in Wales and Cumbria pulled by their respective investors.
Ground conditions were also blamed by HS2 chairman Allan Cook for the ballooning cost price-tag attached to HS2, while Crossrail's £2bn budget blow-out has been blamed on increased building costs and poor contractor productivity.