Improved package had been rejected by 95% of workers last month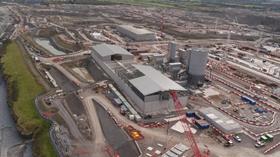 Potential strike action by construction workers on the £20bn Hinkley Point power station has been averted after workers voted for an improved pay deal.
Last month, trade unions Unite and GMB announced a ballot for strike action over pay after an improved package was turned down by 95% of workers.
Unite had said one of the principal issues was that pay rates for workers on civil engineering contracts were significantly below the rates of workers covered by the mechanical and engineering contracts.
Client EDF and main contractor BYLOR (the principal contractor Laing O'Rourke and Bouygues) have since proposed a revised offer.
Under the revised offer, workers will be receiving pay levels that are up to 36% above the minimum pay rates agreed by the Construction Industry Joint Council (the principal national agreement for the civil engineering sector).
Unite said that by incorporating a large amount of the previous bonus payments into the basic rate, workers will see holiday pay, overtime rates and pension contributions increase.
They will also receive back pay from the period between 1 January 2017 and 31 May 2017, when the interim bonus scheme was introduced. The dispute concerns the pay of 1,000 workers engaged on civil engineering contracts at Hinkley Point.
Peter Hughes, regional secretary at Unite, said: "The negotiations have been protracted but the unity of the workers on the project has ensured that we have finally arrived at a pay deal which properly financially rewards the workforce.
"Unite will continue to ensure that workers at Hinkley are treated fairly and decently and hopefully we are now entering a period of industrial harmony."
A previous ballot for strike action was called off in June after an interim agreement on bonus payments was agreed. The three-month agreement was extended into September in the hope that a permanent deal could be agreed.