Uncertainty hangs over hundreds of jobs, while the government's plan for a series of new nuclear stations is in tatters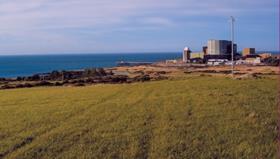 Hitachi has confirmed it is suspending work at Wylfa Newydd on the £16bn Horizon nuclear power project.
The firm had been in talks with the British government since June 2018 after struggling to secure backing from investors, who are worried about risk profile associated with building new nuclear plants.
Now the suspension of work leaves an uncertain future for the 400 jobs working on the scheme (pictured) in Anglesey.
Tom Greatrex, chief executive of the Nuclear Industry Association, said: "It's regrettable that this project has been suspended, especially as a considerable amount of groundwork has already taken place on the Wylfa project, including creating a supply chain to deliver the project."
Back in October engineering firms KBR, Atkins and Wood were handed contracts to work on the power station.
The decision will be met with disappointment by the Welsh government, which previously said it was "worried" about reports the Japanese firm could pull-out.
On Monday Welsh economy minister Ken Skates said he had spoken to business minister Richard Harrington to lobby for the Westminster government's continued support for the scheme.
And yesterday prime minister Theresa May told the House of Commons: "I did raise the issue of the Wylfa site with the prime minister of Japan [Shinzo Abe] last week" – although in a press conference after their discussion Abe said they had not talked about the project.
Hitatchi's announcement further scuppers the government's plans for construction of a series of new nuclear reactions in the UK, after Toshiba pulled out of plans to develop a site at Moorside, Cumbria, in November.
But in December Rob Davies, the UK chief operating officer of China General Nuclear, said the firm is "confident" it can fast-track plans to bring a new nuclear reactor in Bradwell, Essex, where the approval process for the reactor design is currently proceeding.
Davies also said his firm would be interested in developing a new nuclear facility at Moorside, Cumbria.
A proposal to build a new nuclear reactor at Sizewell, Suffolk, is also undergoing a third round of consultation.
Craig Hatch, managing director of surveying and asset managment at WYG, commented: "Naturally, Brexit has commanded much of the government's attention as of late and whilst a sentiment of support for nuclear new builds has been expressed, there is currently no cohesive plan within the current UK energy policy.
"The status quo needs to change and action is needed to keep these projects alive and in the pipeline – particularly at a time when energy demand looks set to increase."