Horizon Nuclear Power plan to use it at both the Anglesey and Oldbury sites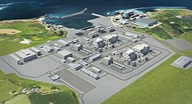 Hitachi's £10bn nuclear power plant in Anglesey is a step closer, with the office for Nuclear Regulation and the Environment Agency approving the firm;' Nuclear Energy Europe's UK ABWR reactor design.
Horizon Nuclear Power plan to use the technology at both the Wylfa Newydd site in north Wales (pictured) and the one in Gloucestershire.
The two stations combinned will provide power to 10 million homes. Each site will require a full-time construction workforce of 4,000, with a peak demand for 8,500 workers.
Duncan Hawthorne, Horizon CEO, said: "This is a huge milestone for Horizon and a major leap forward for us in bringing much-needed new nuclear power to the UK. Both Wylfa Newydd and our Oldbury site will supply clean, reliable power to the UK for decades to come."
Tom Greatrex, chief executive of the Nuclear Industry Association, aadded: "With two thirds of UK power stations closing between 2010 and 2030, this is an important step in providing secure, reliable and low carbon nuclear power for the future, to homes, businesses and public services."
The approval comes after energy minister Richard Harrington last week said the government os looking for new sites to build nuclear power stations.
He added the construction site at £20bn Hinckley Point project in Somerset will support up to 1,000 jobs and a further 1,000 in the supply chain and when it opens, will support 600 jobs each year for more than a century.