Firm eyes expansion beyond current six members of staff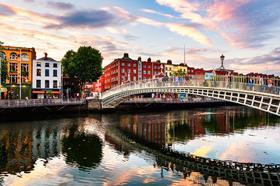 HLM Architects has opened a base in Ireland after more than 30 years of carrying out work in the Republic from Belfast and mainland UK.
The architect now has six members of staff based in Dublin and Nick Beecroft, the director in charge of expansion at HLM, said it was planning to hire more staff in Ireland shortly.
Beecroft said the move was not in response to Brexit but admitted there was a "need to be agile," adding: "It could be a good thing for us if things go really wrong [in the UK]."
The group is currently bidding for four jobs in Ireland and is keeping tabs on around another dozen.
Much of HLM's work to date has been in a JV with Dublin firm Coady Architects, including two satellite hospitals for the national children's hospital.
The group was originally planning to focus on the residential, healthcare and education sectors in Ireland but has since been eyeing up a glut of defence work.
Beechcroft said it was eventually looking at a potential permanent studio. The firm is currently based in flexible working space.