HOK London studio goes green as part of the London Festival of Architecture Open Studios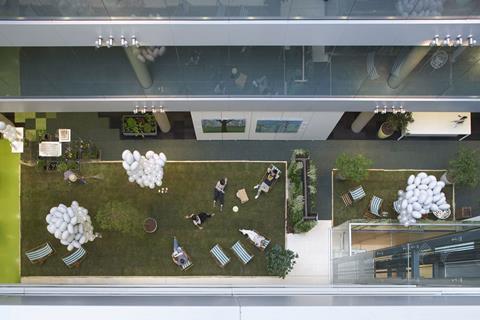 Architect HOK opened the doors of its London studio this month to the public as part of the London Festival of Architecture.
Building on the festivals theme of "The Welcoming City", the central atrium space of HOKs studio has been transformed into a welcoming communal village green complete with a living green wall.
The studio has recently been awarded a LEED CI Gold certification and HOK staff have been putting their green fingers to the test to create desktop allotments and office herb plots.
HOK director Andrew Barraclough said: "This is the first installation in the space since we moved here in 2009 and it has been a great opportunity to work and build relationships with local businesses and charities."
Open Studios, Fitzrovia Trail, is the collaboration of design practices including architects and engineers based in Fitzrovia who will be showcasing their work and hosting activities and exhibitions within their studios.
The HOK studio installation will remain open throughout the London Festival of Architecture and through till mid July.
A number of talks will take place during this time and London based artist Paul Robinson will also be exhibiting in the studio.
HOK is raising funds for both the Royal Parks Foundation and Trees for Cities over the period of the Festival.
HOK's green was created with support from Indoor Garden Design, Vitra, Interfaceflor and Loughton Contracts.