Idea is brainchild of Zedfactory's Bill Dunster
Architect Bill Dunster has revealed plans to roll out up to 1,000 zero carbon flatpack homes a year – built on stilts above car parks.
Called Zedpods and developed by Dunster's sustainable design firm Zedfactory, the affordable homes would be located in major cities, with assembly taking only a week.
Zedfactory joins heavyweight firms including Legal & General, Urban Splash and Rogers Stirk Harbour + Partners that have all unveiled plans to deliver thousands of modular homes in recent weeks.
Speaking exclusively to Building, ahead of the launch of the initiative at this week's Ecobuild conference, Dunster said he is in discussions with owners of three sites for the first homes, and could roll out up to a thousand a year if there is enough demand.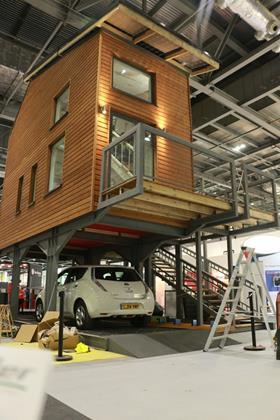 Single pods are expected to go on the market for £35,000 with double pods costing £65,000. Dunster estimates the construction cost will be between £35,000 and £45,000 per pod.
He said: "We have kit that produces the homes, it doesn't require any advanced manufacturing. We can produce 5,000 a year if we wanted to."
Dunster confirmed he is currently looking at sites in London, Cardiff, Oxford and Bath for the first homes, and is aiming them at young professionals priced out of the housing market to "get them living where they work".
The homes are designed to almost Passivhaus status, with a highly insulated timber frame pod. They will sit beneath a solar-panelled roof which will provide 90% of the homes' energy.
Constructed over existing car parks, single pods are built over two parking spaces with double pods over four spaces. Cars are still able to park underneath.
Dunster said disused warehouses near the sites can be turned into factories to make the components for the homes, while he said the fact the homes are built above land that is already being used means they can be built far quicker than with traditional housebuilding.
He said: "We can build these homes immediately. We're approaching site owners directly and we have our own finance."
He added: "We can turn an empty warehouse or even a tin shed into a production unit.
"We have a production capacity of ten a week at the moment, but we can build 100 a week if the demand is there."
Dunster said the avoidance of land purchase costs means the cost can remain affordable, with homes on offer for both rent and sale.