The Far East Consortium will develop key sites near city's Victoria Station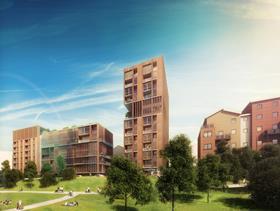 Hong Kong-based Far East Consortium (FEC) has been appointed to develop key sites near Manchester's Victoria Station by Manchester Place and The Co-op.
FEC will deliver over 600 new homes and new public realm around Angel Meadow Park, which forms part of the Noma neighbourhood development in the city and has been identified by Manchester Place as major residential growth area for the city.
The £800m Noma regeneration scheme spans 20-acre in the city centre of Manchester and is being delivered by a joint venture comprising The Co-op and Hermes Investment Management.
Chris Hoong, managing director at FEC said: "We have assembled a team with the skills to deliver a new neighbourhood of international caliber and we would like this to be the start of a long relationship with the city."
"We have the knowledge and expertise to develop and deliver multi-billion mixed use landmark schemes and we believe Angel Meadow will be another successful addition to our international portfolio," he added.
David Pringle, director of NOMA at The Co-op, said: "This is a great step forward for the second phase of residential development at NOMA. The Angel Meadow sites have the potential to redefine city centre living with the added benefit of being situated around a reinvigorated green park.
Manchester City council leader Sir Richard Leese said: "This is exciting and positive news and we look forward to working with FEC to create new places to live. Manchester continues to grow at pace and we need more high quality homes to sustain that growth.
"This is an important site, close to good transport links, that will help unlock the further residential potential of the Irk Valley and wider Northern Gateway.
FEC has also recently won planning approval for Alpha Square in London, which comprises 700 apartments, a new school, health hub, hotel and pocket square.