Firm's contracting arm has to bail out Caribbean subsidiary over problems on £176m job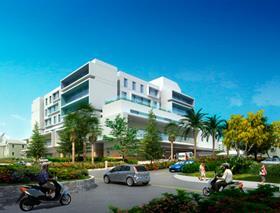 Losses on a massive hospital job have pushed Sir Robert McAlpine's contracting arm to a £37.8m pre-tax loss, the firm's accounts have revealed.
In accounts filed at Companies House, Sir Robert McAlpine (Holdings) limited, the group's civil engineering and building arm, reported a £37.7m pre-tax loss in the year to 31 October 2013, down from a £19.2m pre-tax profit the year before.
The firm reported it had incurred a £41m loss in connection with problems on its £176m King Edward VII Memorial Hospital (KEMH) redevelopment in Bermuda, which is being carried out by its BCM McAlpine joint venture.
Writing in the accounts, director Ian McAlpine said the project had "suffered severe problems with design and performance resulting in a substantial loss, which it has been unable to absorb without monetary assistance from the group".
He added that the funding provision of £41m was designed to cover both funding to 31 October 2013 and "an allowance for further funding to cover losses to completion".
He added: "The group has taken a conservative view of the outcome of the project and although the BCM McAlpine has significant claims outstanding no allowance has currently been made for a recovery."
McAlpine said BCM was only working on the Bermuda hospital job and no other work was being undertaken by the joint venture.
However, Sir Robert McAlpine (Holdings) Limited also reported a rise in revenue or £810m in the year to 31 October 2013, up from £702m in the previous year.
This was driven by improvements in the UK market where revenue increased to £781m in Sir Robert McAlpine's 2013 financial year, up from £664m the previous year.
But revenue in the Caribbean fell to £30m in 2013 down from £37m in 2012 and revenue from its Caribbean joint ventures rose to £282,000 in 2013 from £141,000 in 2012.
The problem job in Bermuda also had a negative impact on the results of Sir Robert McAlpine's overarching parent group Newarthill Limited.
The group reported a fall in pre-tax profit to £5.9m in the year to 31 October 2013, down from a pre-tax profit of £21m the year before.
This came despite a rise in revenue to £898m in 2013, up from £769m in 2012.