Exclusive: More than 90 consultants win places on 'one-stop shop' framework to offer services to NHS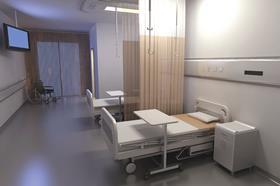 Aedas, Gardiner & Theobald and Capita are among more than 90 consultants to have won places on a "one-stop shop" framework for the NHS covering architecture, surveying and engineering services for health clients across England, Building can reveal.
The multi-million pound framework, which breaks down into 12 regional lots and runs for four years, replaces a more limited framework that only covered architecture and quantity surveying.
It will be used by all 600 NHS Trusts and 243 NHS Commissioning organisations to procure consultants for new build and refurbishment works for buildings including hospitals and GP surgeries.
The biggest winners were Aedas, Gardiner & Theobold, NPS, Rider Levett Bucknall and Capita, which won roles across all nine disciplines and all 12 regions.
Other major winners were Ingenium Archial, Pick Everard, URS and WYG, which won places across all regions and all but one disciplines.
The framework is being run by the NHS Shared Business Services (SBS) - a joint venture between the Department of Health and private sector firm Steria.
A spokesperson for NHS SBS said the new framework, which went live last month and accounts for BIM services for the first time, has "greater flexibility" in terms of how projects are priced and has an increased number of SME participants.
The framework also covers Scotland and Wales, but is only available to non-NHS public sector bodies, such as the police, in these countries as each has their own NHS frameworks.
The full list of services covered is architectural services, project management, civil and structural engineering, quantity surveying, M&E, CDM co-ordinator, building surveying, building services, health and safety, environmental and ancillary services.
The 12 regions are the North-east, the North-west, Yorkshire & Humber, the East Midlands, the West Midlands, the East of England, London, the South-east coast, South Central, the South-west, Scotland and Wales.
Full list of winners
Addison Projects PLC, Aecom Limited, AECOM Professional Services, AEDAS Architects Limited, Ainsley Gommon Architects Ltd, Arcus Consulting LLP, Atherdern Fuller Leng Limited, Auburn Ainsley, Avanti Architects Ltd, Bailey Garner LLP, Building Design Partnership Ltd, Bolton Priestly Ltd, Boon Brown Architects Limited, BpArchitects, Capita Properies Ltd, Castons, CBRE Limited, Couch Perry Wilkes, CPC Project Services LLP, Currie & Brown UK Limited, Curtins Consulting, Sweett Uk, Day Architectural Ltd, Deloitte LLP, DSSR Consulting Engineers, Environmental Design Associates, The Tooley & Foster Partnership, Floyd Slasski Partnership, Focus Consultants 2010 LLP, Frank Shaw Asociates Limited, Frankham Consultancy Group Ltd, Gardiner & Theobold LLP, Gilling Dodd Architects, Hazel McCormick Young LLP, HDR International Inc, Hendersons Green Ltd, Hewshott International, Hoare Lea & Partners, Holbrow Brookes Construction Cons, Howarth Litchfield Partneship, IBI Nightingale, IdpMidlands Architects, Ingenium Archial Ltd, Ingelton Wood LLP, INNOV8 Safety Solutions Limited, Interserve Construction Ltd, Jackson Coulson Patrnership, Jmarchitects, John Cooper Architects, JRB Environment Design Limited, Keelagher Okey Klien, Lend Lease Consulting (EMEA) Ltd, Llewelyn Davies, LSI Architects LLp, Mace Limited, Mersey Design Group Ltd, Michale Hyde & Associates Ltd, Moreton Hayward Limited, Nationwide CDM, Northmore Associates Ltd, NPS Proerty Consultants Limited, Oander Limited, Oneil and Partners, Ove Arup & Parners International, Oxford Architects LLP, Paddock Johnson Partnership, Parsons Brinckerhoff Ltd, Penoyre & Prasad, Pick Everard, Pierce Hill Limited, Pinnegar Hayward Design LLP, QMP, Rider Levett Bucknall, Robert Potter and Partners Ltd, S I Sealy & Associates Ltd, Scott Talon Walker Architects, Services Designs Associates Ltd, Set Square Surveyors Ltd, Sonnemann Toon Architects, Space Architecture (Europe) Ltd, Stewart Associates, Stewart Morris Partnership Ltd, Stride Treglown Limited, Studio Four Architects Ltd, T A D Architects, The Mancer Practice Limited, Thomason, Todd & Ledson LLP, Aitken Turnbull Todd Architects, Triangle Architects Limited, Turner & Townsend PLC, URS Infrastructure & Environment Ltd, W T Partnership, WYG Engineering Ltd, Waterman Transport & Development