Government data shows recovery spreading from London to the regions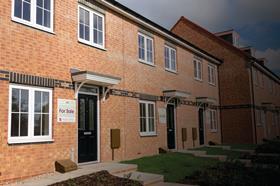 House prices in the UK rose 5.5% in the year to October, a sharp increase on the 3.8% annual rise recorded in September.
This growth took average UK prices to £246,000, surpassing the previous record high reached in August, with seasonally adjusted growth of 1.4% between September and October .
Growth was strongest in England and Northern Ireland, where prices rose 5.7% and 4.8% respectively.
The growth in England was led by London, where average prices rose 12% to hit an all-time high of £437,000. In Northern Ireland, in contrast, the recovery is still from a position of extreme weakness, with the lowest average house prices of any UK region and prices still around half their August 2007 peak.
The data shows price recovery spreading from London to the rest of the UK, with annual rises now recorded in every UK region.
Richard Sexton, director of e.surv chartered surveyors, said the data showed the property market singing a "sweet tune".
He said: "We must keep a tight rein on the recovery of the market, to ensure prices remain affordable for all. The volume of house-building needs to be dramatically increased, particularly in the capital, where the competition for homes is forcing house prices up at a rapid rate."