News comes as government launches mortgage guarantee element of Help to Buy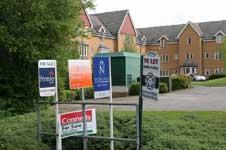 The number of homes sold in the UK hit an almost four-year high last month as the housing market recovery continues to gather pace, according to the latest RICS market survey.
News of the continued recovery in the market comes as the second phase of the government's Help To Buy scheme, which provides a mortgage guarantee, is launched today, amid fears that it could lead to the housing market overheating.
According to RICS, the average amount of properties sold per chartered surveyor in the three months to September reached 18.7.
Although still historically low, this is the highest figure since November 2009 and demonstrates the extent to which the market is now picking up across the country.
Peter Bolton King, RICS global residential director, said: "It's encouraging that the market is starting to improve in all parts of the country with more buyers looking to make a move and more sales going through.
"Even so, it's a big concern that the supply of property coming to the market is lagging so far behind demand. This imbalance is likely to result in further upward pressure in prices over the coming months, particularly in the nation's hotspots."