Firm formerly known as Gladedale bought by private equity companies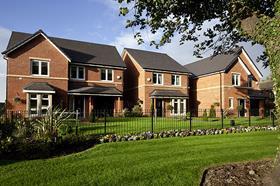 Lloyds Banking Group has sold Avant Homes to a trio of private equity funds.
The housebuilder, which was known as Gladedale until a rebranding exercise in August last year, has been sold to a consortium comprising Alchemy Special Opportunities, the Avenue Capital Group, and Angelo and Gordon & Co.
Avant, which operates mostly in the north of the UK, was hard hit by the recession, plunging to a £171m loss in 2009. Via its main brands, Ben Bailey in the midlands and Yorkshire and Bett Homes in Scotland and the north east, Avant is aiming to become the premier house builder in the north of England.
The takeover by the three private equity funds will see Keith Hamill and Neil Fitzsimmons, chairman and chief executive respectively, stand down from their positions.
Colin Lewis, Avant's group chief operating officer, will become group CEO. Paul Bridges, senior adviser to Alchemy, will become chairman. The consortium said the investment demonstrated its confidence in Avant's "strong future growth prospects as a specialist housebuilder selling aspirational and design-led homes through its two trusted market-leading regional brands:"
Lewis said: "This is a significant step forward for Avant. This investment, by a consortium of highly-respected investors who share our vision for the business, not only reflects the exciting opportunities for growth available to us, but also gives us the platform to make the most of those opportunities.
"The Avant team is looking forward to growing the business significantly, as we build on our unrivalled positioning provided by our differentiated product offering and our attractive landbank, in which we have been investing heavily. Our ambition is to become the premier housebuilder in the North."
Avant has been 100% owned by Lloyds, which took ownership of the firm following a debt for equity swap in 2010 and subsequently restructured the company.
Rothschild acted as financial adviser to Avant on the transaction.