Lloyds owned group sold to consortium of Patron Capital and Legal & General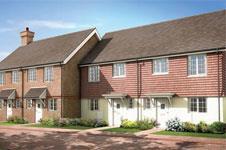 Housebuilder Cala Group has been sold by majority owner Lloyds for £210m to a consortium comprised of insurer Legal & General and private equity player Patron Capital.
The deal will see Patron and Legal & General each take a 46.5% stake with management taking the remaining 7%.
Alan Brown, chief executive of Cala, said the investment would enable a significant expansion for the group, enabling it to move from building 800 homes per year to "well over 1,000" homes within 2-3 years. He said: "We'll see significant growth in the next five years. Back in June 2010 we took a decision to investment heavily in our land bank, and we now have 10,000 plots in our land bank. This deal gives us the finance to develop those plots."
Brown said the deal, which will reduce the group's debt from £160m to a current position of £70m with a £100m debt facility, will "virtually halve" the company's debt repayments.
Lloyds Bank, which took ownership of the company in the recession after having financed a 2008 debt for equity swap which saved the business, will remain as provider of the group's banking facilities but will not hold an equity stake.
Both Patron Capital, a specialist property private equity firm, and Legal & General, will put representatives on Cala's board.
Brown said: "We're getting significant support on our boards and i'm looking forward to the first board meeting to find out what they can bring to the table."
The deal is £140m in the form of equity, including £10m from the management, and £70m in the form of debt.
The firm report £11.4m profits in the year to 30 June 2012, and this year has seen sales rate on sites rocket from0.55 sales per sites per week to 0.75.
Keith Breslauer, managing director of Patron said the deal highlighted its "confidence in CALA, its growth potential and the Group's competitive position in the UK housebuilding sector."
Wadham Downing, group M&A and strategy director, of Legal & General said: "We are very excited to have invested in Cala [and] are confident that with the combined expertise and financial resources that both Patron and Legal & General bring, we can build many more homes in the UK and help Cala grow and realise its potential."