Firms laud government initiatives like Help to Buy for boost to resurgent housing sector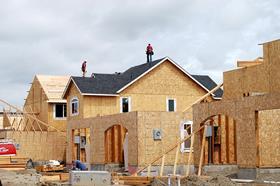 Further evidence of the recovering housing market emerged this week, with a clutch of volume housebuilders reporting strong trading conditions and surveyors predicting the market will heat up over the summer.
This week housebuilders Barratt, Bovis Homes, Taylor Wimpey, Redrow and Galliford Try all reported strong trading conditions, with the firms hailing government efforts to boost the market, such as the Help to Buy scheme.
Barratt said it beat market expectations in impressive trading during the first six months of this year, with the firm's sales rate up 17.9% on the previous year and up 34.7% since the launch of Help to Buy in April.
Taylor Wimpey said it would report increasing profit for the first six months of the year, following signs of "significant improvement" in the housing market, while Bovis Homes reported a 40% increase in private reservations in the first half of 2013 compared with the same period in 2012.
Redrow said group revenue rose 26% to £604m for the year to 30 June 2013, with the firm expecting to post profit for the full year higher than analysts' expectations.
Galliford Try said the performance of Linden Homes, its housebuilding business, over the year to 30 June had been "strong", with a record year-end forward sales position of £313m, up 15% on 2012.
The results came as the latest RICS housing market survey reported rising house prices and increasing demand, fuelled by increasing numbers of prospective buyers returning to the market.
The survey also found a net balance of 45% more surveyors predicted sales will increase over the coming three months, up from 36% in May. This was the most positive reading since the survey began 14 years ago.
Pete Redfern, Taylor Wimpey chief executive, said there had been a "significant improvement" in the housing market in the first six months of 2013.
"We have seen increased consumer confidence, underpinned by both improved access to and affordability of mortgage finance and by the recent government measures," he said.