Housebuilding is rising in every part of the UK for the first time since the market crash, according to the RICS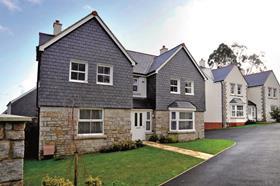 Chartered surveyors around the country reported growth in the latest survey, with construction workloads rising at their fastest since summer 2004.
In the third quarter of 2013, 41% more respondents reported rises in privately-funded housing projects compared with the previous quarter.
The survey also showed a net balance of +31% expecting more jobs to be created over the next twelve months.
Respondents expect this rise to contribute to a sharp increase in business activity, with +71% expecting work volumes to pick up speed.
The growth over the last quarter has been driven by commercial and industrial developments that have finally begun construction after securing funding.
Simon Rubinsohn, RICS chief economist, said: "While it's certainly good news that construction - and especially housebuilding - is finally on the rise right across the UK, we are certainly not out of the woods yet.
"Critically, we're still way behind in terms of building enough homes to meet the nation's growing housing need and overall construction projects are at a historical low.
"In the face of this challenge, it is a particularly concerning that we are already receiving reports of some skill shortages as well as capacity constraints for some building materials such as bricks."