Lambeth scheme will see 2,400 homes built in Clapham
Metropolitan Thames Valley Housing (MTVH) has begun the search for a JV partner to build the second phase of a £1.6bn scheme to overhaul a south London estate called Clapham Park.
Worth £800m, the second phase will see around 2,400 homes built along with non-residential, public realm and infrastructure schemes.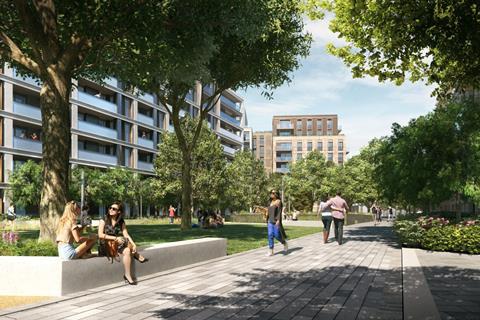 Phase one has already seen 768 new builds and a further 777 refurbishments completed, with 51% of the homes across both phases to be affordable when complete.
The housing association, which was formed from a merger of Metropolitan Housing Trust and Thames Valley Housing Association in 2018, said the winning firm could either be a developer or contractor and will team up on a 50/50 basis with Metropolitan Living, a whole-owned subsidiary of MTVH.
A spokesperson added: "We have no pre-determined requirements here. We want to work with a partner with experience of delivering high quality, community-focused regeneration projects."
Mace's consulting arm and architect PRP, which both worked on the first phase as QS and masterplanner respectively, have also worked on the planning stages of phase two.
The 15 year deal in Lambeth is due to start next June with tenders expected to be sent out on 14 October.